posted at Tuesday, October 1st, 2013 at 12:00 AM | Uncategorized
Liz Lemon explained dealbreakers to us on 30 Rock. With someone you're attracted to, it's like everything is golden until they utter that little phrase "I don't like to read" and then it's all over.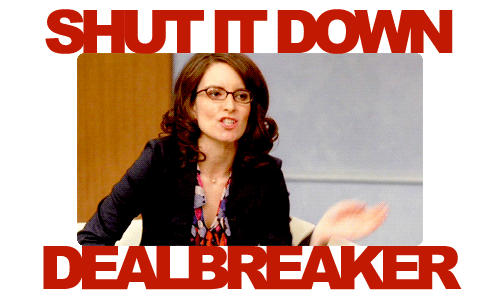 Something similar happens with blurbs. Sometimes, I've fallen in love with the blurb or the cover or even the first half, but then THAT THING, that incredibly annoying idiosyncracy that makes you want to stab your eyeballs out in a Oedipal rage, strikes and you and the book are done. You may already have committed, but you will surely be filing for an annulment as soon as that book shuts.
1. You are a character in this book.
For the most part, I'm pretty open to narrative techniques. First person, third person. Multiple POVs. Past tense, present tense. The thing I cannot really handle is second tense. Though I did manage to get past it in All the Truth That's in Me, I'm fairly certain I would have liked it MORE if it weren't in second person. Using "you" doesn't draw me in. I KNOW that's not me, so it throws me out every time.
2. When the sentences. Are like. You know. Not complete. And stuff.0
Some books have nary a complete sentence. *cough* Lisa McMann *coughs* Sure, people do not tend to speak or think exclusively in complete sentences, but they also don't speak and think exclusively in fragments. Simplistic writing I generally hate, and fragments outnumbering the sentences guarantees I will be NOT IMPRESSED.
3. The love interest is the hottest blah in the history of blah.
Listen up, y'all. I LOVE watching hot people okay. It's one of my joys in life. I mean, there's a reason the programs on the CW are so addictive, and it's not the plots. For real, I can watch hot people for ages. However, when I'm reading a book, I want more realism than I do from television. I'm sick of every hero and heroine having perfect skin, non-frizzy hair, great style and more money than Midas. Like, it's almost to the point where an ugly guy would be hotter just because he wouldn't look like EVERY. OTHER. CHARACTER.
4. BABIES.
I do not like children. I like babies even less. They freak me out and do not interest me. In both books and tv shows, odds are high that I will be bowing out when someone has a baby. Even pregnancy is questionable, but, unless they totally ignore the baby once it comes out, I'm over it.
5. When a book tries to make me sympathize with cheating scumbags.
There is like one acceptable reason for infidelity: when the spouse was presumed dead but then came back. If you thought you were a widow/widower, then I have no issue with you. James Garner's character in Move Over, Darling gets a full pass. Oh, also, it's different in situations of arranged marriages. In contemporary American stories, there's no excuse for it. Either you love your significant other enough not to cheat, leave your significant other to cheat, or come to an arrangement with your spouse whereby they agree to renegotiate the terms of the relationship. Anything else and, in my opinion, you're a douchebag. Cheaters can gain redemption, but I will never ever ship them with either the person they cheated on or WITH, since they clearly didn't respect either of those people.
6. Oh, look, my ship got together and the book is OVER. NO. IS THAT IT?
I understand the appeal of the ship coming together at the end. A lot of authors aren't good at maintaining the sexual tension and banter if the couple is together and happy. I'd rather them get together right at the end than get together and make each other miserable as a way to create tension. However, you don't have a declaration of feelings and close the curtain. You give them SOMETHING. A grand kiss. An adorable bantery chat of couple-y-ness. An epilogue about them being happy a couple months in the future. SOMETHING.
7. When a heroine highlights her perfection by tearing down every other female character.
There are two books that perfectly exemplify this one, both by the same author: How My Summer Went Up in Flames and Famous Last Words. Both of these had so much promise. The author's clearly talented, but both heroines immediately hate every other young, attractive female in the vicinity. They judge them as sluts and drunks, while engaging in the same sorts of behaviors, no less. Nope. I love bitches, but only if they've embraced who they are. Try to play the holier than thou card while being a bitch and I will cut you…right out of my heart.
8. Totally didn't see that twist coming, now will you please take it back?
Ugh, so, sometimes I'm reading this awesome contemporary novel and I'm totally grooving on it. It's a total mindfuck and everything is confusing perfection. Then, though, there's a MINDBLOWING TWIST…that takes all the things I was loving and throws them right out the window. Now you have aliens or Greek gods or whatever. Same goes for fantasy or sci-fi things that end with a twist like the character waking up from a dream. Nope. Stop. We're done.
9. A fuzzy adorable creature just died.
Success! You have made this hard-hearted reader weep openly. However, you have done so with the laziest trick in the book. I'm not a psychopath, so I'm obviously going to weep when a kitten dies. Now, if you can make me sob over your human characters? THAT is talent, my friends. I can sort of accept that sometimes non-human animals have to die, but sometimes authors do this for kicks and easy feels-manipulation, and that shit is not acceptable.
10. Hey, I just met you, and this is crazy, but HEA with me maybe?
Nothing takes a book that I was totally in love with and turns it into a 2.5 star or lower faster than instalove. IN NO WAY IS IT LESS SWOONY FOR THEM TO NOT BE ALL "OMG I LURVE YOU" "NO I LURVE YOU MORE"!!!! This makes me want to throw up everywhere and makes me immediately question their relationship. Let them take it a day at a time. It's not like the stability of a relationship is inversely proportional to the number of days it takes to say "I love you." Make us YEARN and BURN for the declaration of feelings. BUILD UP SOME DAMN TENSION. Instalove is almost always accompanied with lazy writing. You CAN sell this to me as a reader, or at least you can sell to me that the CHARACTERS believe they're in love, but there has to be a lot of character development to make it work. Though instalove may seem like an easy writing technique, it's only for experts.
Books, YOU HAVE BROKEN OUR DEALS.
What bookish tropes/plots/narrative styles totally nullify any deal you had with the book? What are YOUR dealbreakers?
Related Posts
72 responses to "Top Ten Bookish Dealbreakers"