posted at Thursday, March 22nd, 2012 at 5:10 PM | Uncategorized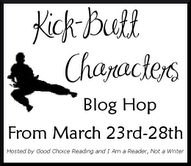 In honor of this upcoming giveaway hop, I wrote a top ten list on this exact topic yesterday, so make sure you check that out too.
For this hop, I'm giving away a copy of Wicked Lovely by the wonderful Melissa Marr. Her books are dark, magical and chock full of completely kick butt characters. If you think Bella Swan is an awesome heroine, these probably aren't for you. However, if you like strong women that make their own decisions, you will probably love Marr's books, like I do. Plus, they all have completely gorgeous covers.
In fact, I liked this book so much that I accidentally bought two copies. :-p
The giveaway's only open to people in the U.S., because of my limited budget. Just fill out the Rafflecopter form below. Following is not required to enter to win, but is greatly appreciated. 🙂
Related Posts
55 responses to "Kick-Butt Characters Giveaway Hop"